Searching for corporate video production Toronto?
A professionally developed corporate video has found it's was to become an essential tool in many different fields for many different reasons. Corporate videos work to reduce training & marketing costs and set universal standards for the culture and brand of your business.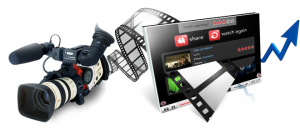 Types of corporate videos?
Promotional
Instructional
Company Messaging
Advertising
Testimonial
Event Recap
Webcasting
Introduction
Creating effective content for your business with Corporate Video Production
What will a professional corporate video do for your Toronto business?
Increase the amount of time spent on your website by over 200% – just by adding video content.
Brands using internet video have seen lifts from 20%-40% in incremental buying rates.
Statistics have shown that audiences have grown to prefer video on the web, turning viewers into committed customers. Video on landing pages can increase conversion by up to 80%
90% of businesses are actively focused on increasing collaboration among employees, while 67% say they do so to improve productivity.
Corporate Video collaboration helps to promote innovation by enabling internal teams to communicate and share knowledge and expertise. Video can be utilized for small group meetings or used to address a large corporation audience. Employers have recognized the need for more compelling internal communication and maintain employee engagement and ensure a higher rate of content retention. Video is the most effective medium for achieving this goal and this is motivation for the increased adoption of Enterprise Video Production Toronto platforms.